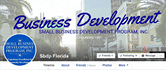 Small Business Development Program, Inc. was founded by a group of financial and community executives. Small Business Development Program, Inc. was founded in the year of 1997 in the Historical city of Jacksonville Florida and implement in the wonderful state of North Carolina. All of the programs and services were developed by survey analysis and strategic implementations of economic review. To make it plain and simple, we saw a need for Ministries and Small Businesses to grow financially and economically. We currently service and assist over 450 to 780 members per year. We look forward to assisting your Ministry or Small Businesses in the upcoming year of 2022/23.
We are honored and excited to present to your Ministry or Business the best official resource and service program, with answers and solutions to your growing needs. We assist in the start up and maintaining of your Ministry or Business. With new innovative funding resources, development campaigns and specialized services and training to make your Ministry Development and Business Development and easy and professional process.
Real Experience and Proven Results.
Funding Resources for Profit Improvements
Funding Resources for Non Profit Enhancment
Our network partners provide real-time
resources, products and services
to bring your business or ministry to the
forefront. We connect you with the
best leaders in the American business sector.
See our full network partner directory in your
Service for Success Directory
Small Business Development Program, Inc. courtesy Customer Satisfaction Statement.
Out of all our accolades, this one means the most: 100% Customer Satisfaction
Build a business we would want to work for. Treat our customers with true integrity. from these simple concepts, IBC-Innovative Business Center was created. Taking very small steps into the Business sector, Our team of professionals will walk you through the formation of your business. Bringing your vision to life. Specializing in the development of ministry and Kingdom Building. Overall there is a experience of excellence in business with IBC-Innovative Business Center. To us the satisfaction of our customers is what makes IBC-Innovative Business Center the new world leader in business development and funding resources.
We would like to extend the invitation of assistance. If you have any question concerning a recent ministry or business, we would be happy to assist your organization in any way that we can.
"Empowering Innovative Ideas"
Small Business Development Program, Inc.
Implementing Vital Business Strategies.
Quality In Service
Rendering Customer Expectations
Our resource gallery will connect you with the resources needed to maintain, enhance or expand your business.
See our brochure to learn more about our program services.
We are not your typical service industry business. We are an organization that takes pride in making your business what you need it to be. We are an extension of your Vision. We are a part of your team. Small Business Development Program Inc. provides new innovative ideas and we magnify solutions to make running your business a breeze. We hold a team of Professionals, Attorney's CPA's and Retired Fortune 500 Business Executives that bring an expertise of doing business right to your door. Our organization specializes in the execution of business strategy and the transfer of success.
1. SET GOALS
We invite you to schedule an appointment for our free consultation. We want to understand your business needs, We assist you in setting goals that are realistic and easy to achieve.
2. ORGANIZATION CONSULTATION
We will complete a full consultation in order to implement a plan for enhancement.
3. ORGANIZATION SET UP
Our team of professionals will set up your organization by completing the necessary paper work with City, State and Federal agencies.
4. IMPLEMENT PROGRAM RESOURCES
Our team of professionals with implement any and all resources needed to implement real-time business on your behalf.